Want to play better golf?
Come and visit the 'State of the Art' Indoor Golf Teaching/Club Fitting & Putting Studio. Now open at Blackpool North Shore Golf Club.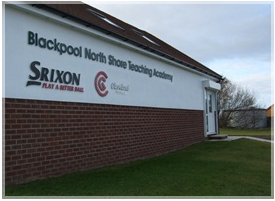 Would you like to:
Reduce your handicap
Perfect your all round game
Improve your swing
Advance your putting skills
Find your perfect putter
Be fitted for the right set of clubs
Our service to help you with your golf game is one of the finest you will find.
Our Indoor Teaching Academy opened in 2009 and includes an indoor putting green with video analysis.
We also provide a sheltered chipping area plus state of the art indoor video analysis with 3 way camera technology.
Every aspect of your game videoed and analysed
Head Professional Andrew Richardson enshrines the philosophy that improving a player's performance improves their enjoyment of the game. The academy includes important focus for developing a player's short game. The academy provides the ability for the player to hit out to the short game area and use the indoor putting green, in addition to improving play from the tee.
Andrew and his team of staff, including Teaching Professional Curtis Dean, improve the performance of enthusiastic beginners and advanced players alike through lessons and instruction. We use the latest SkyTrak launch monitor and Quintic Putting Software to analyse and perfect every aspect of your game - starting with your grip, your posture, the rhythm of your swing and the consistency of your contact with the ball. With this state of the art facility Blackpool North Shore Teaching Academy is the only place to learn.
Golfers are increasingly aware of the value of instruction and the Teaching Academy at Blackpool North Shore is the centre of excellence for the teaching of golf.
Andrew Richardson - PGA Head Professional
60 minute golf lesson
Member

£40

Visitor

£50

60 minute playing lesson
Member

£45

Visitor

£60

9 hole playing lesson
Member

£50

Visitor

£70

Group lessons -

£50

for 2 players
Additional

£10

per person (Max 8 players)
 
Curtis Dean - PGA Teaching Professional
60 minute golf lesson
Member

£35

Visitor

£40

60 minute playing lesson
Member

£40

Visitor

£45

9 hole playing lesson
Member

£45

Visitor

£50

Group lessons -

£45

for 2 players
Additional

£10

per person (Max 8 players)
 
Charlie Beavers - PGA Professional
60 minute golf lesson
Member

£35

Visitor

£40

60 minute playing lesson
Member

£40

Visitor

£45

9 hole playing lesson
Member

£45

Visitor

£50

Group lessons

£45

for 2 players
Additional

£10

per person (max 8 players)
 
Junior Classes

Tuesday - 5pm
Wednesday - 5pm
Thursday - 5pm
Saturday - 10am, 11am, 12pm
Sunday - 9.30am, 10.30am, 12.30pm

Members - £7.50 Visitors - £10

Junior Private Lessons
£15 30min
£25 60min